Stick War Legacy Gameplay
Stick War: Legacy is a real-time strategy (RTS) game that takes place in a stick-figure world. It mixes strategic war, resource management, and unit-based combat.
In Stick War: Legacy, you are in charge of an army of stick figures. You train different types of units and manage things like gold and power. Fight real-time battles against enemy armies by carefully placing units to take over territory, protect your own statue, and unlock upgrades. Use your special skills and strategic choices to beat your opponents and take over the world of stick figures.
Also offering many other "VS" of Max Games Studios on our website, such as Age of War vs Age of War 2 and Stick War 3 vs Age of War.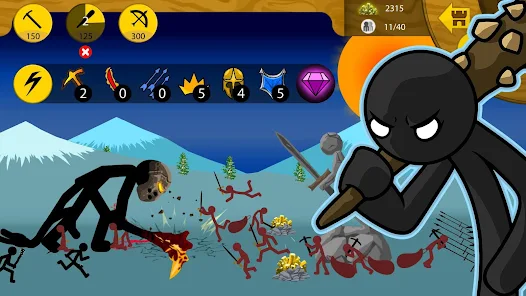 Looking at The Core Gameplay Mechanisms
Stick War Legacy Gameplay
Army Management where player must train and run an army made up of stick figures. Each type of unit has its own skills and strengths.
Gather Resources two main resources: gold and mana. Miners collect gold, which is used to train teams and improve their skills. With mana, you can use powerful magical skills.
Unit Upgrades where players can use gold to make their troops stronger and give them access to new skills.
Strategic Battles that players fight against enemy forces in real time. In the battles, units are placed in a strategic way to counter the enemy's formation, take advantage of their weaknesses, and guard key areas.
Invade the Territory on a map, areas that are under the control of various enemy groups. The goal of the players is to take over these lands by beating the enemy forces and taking their statues.
Defensive strategy is the main goal of the game is to take over areas, but the player must also protect their own statue from enemy attacks.
Special Powers can be used by Players as well as basic units that cost mana. These skills can change the way to fight a battle and give you strategic advantages.
Quick Decisions are what game is all about making quick choices in the middle of fights. Players have to change their plans based on how the enemy moves and how many units they have.
Stick war Legacy gameplay Mechanics
Stick War Legacy Modes and Difficulty Levels to Choose From
Stick War Legacy Gameplay consists of 4 modes, from which you can choose your type of game. Also, the gameplay gives you the option to choose the difficulty level of the game depending on your level of playing Stick War Legacy. All these modes and levels are mentioned below with their details and criteria:
In Campaign Mode(Classic), in Stick War Legacy Gameplay you will make your way through a succession of stages, each of which will present its own set of unique challenges and goals. Players are typically instructed on the game's story and its mechanics when they begin in this mode.
In Endless Mode, you will have to fight with waves of opponents that become ever more challenging, putting your strategic and operational expertise to the test. The objective is to maintain life for as long as is humanly possible.
In Tournament Mode, participate in a series of fights against AI opponents or friends in the game. The objective of this mode is to win the tournament by displaying superior strategic skills compared to your rivals.
In Mission mode, in Stick War Legacy Gameplay, you will play through 11 levels, each with its own unique challenges. Starting from "The Begginning" and ending at "The Final Battle".
The Difficulty Levels are:
Normal: Offers a balanced level of challenge suitable for most players.
Hard: This is a more challenging difficulty level. It is recommended for players who have some experience with the game.
Insane: This is the most challenging difficulty level. It is only for the most skilled or professional players.
Stick War Legacy Gameplay has a lot more to offer than just these modes and levels of difficulty, such as:
Achievements: There are different kinds of awards that you can earn by doing things like beating a certain number of enemies or winning a certain number of games.
Leaderboards: You can see how you compare to other players by looking at the leaderboards for each mode and level of challenge.
Striking the Perfect Balance in Stick War Legacy
Balancing and tuning are important parts of game design that make sure the game is fun and difficult without being too hard. For "Stick War Legacy Gamepaly," think about the following steps to get the balance and setting right:
Balance and Tuning
How the Game is played and how the different units, skills, and game features work together. Find any units or tactics that are too strong or too weak and could throw off the balance.
Gradual Increase in Difficulty by slowly adding new mechanics, units, and tasks so that players don't feel overwhelmed. Slowly make the game more difficult, giving players time to adjust to the changes.
Adjust the AI's way of making decisions so it can face challenges without seeming unfair. Change how enemies act to keep players on their toes and push them to play in different ways.
Testing and Making Changes at different levels, modes, and events on a regular basis to find bugs.
Make small changes based on what people say and what you see. Avoid big shifts in balance.
Involvement in the community by engage with the player group to get their ideas and thoughts on how to improve the game's balance. Think about making balance changes based on what players say, but also from a developer's point of view.
Frequently updating for Balance and tuning should be improved on a regular basis, with updates after the start to address ongoing problems and keep people interested.
Stick war Legacy gameplay balance
Diverse Scenarios and Situations in Stick War Legacy
The possible scenarios and situations that we can share with your on our experience and analysis of the Stick War Legacy Gameplay are:
Defensive Siege: Protect your fortress from waves of enemy units trying to break through your walls and steal your statue.
Scarcity of Resources: In some levels, resources may be limited, which means that they need to be carefully managed and decisions made about which units to train and when.
Ambush Attack: Move through a dangerous area where enemy units are hiding and waiting to attack you.
Raid on Enemy Stronghold: Lead your army to attack a highly fortified enemy base and take their statue by breaking through their defenses.
Territory Control: Fight battles to take over enemy regions, which each have their own challenges and benefits.
Boss Battle: Fight against powerful enemy leaders with unique skills and large armies that are hard to beat without a special plan.
Resource Rush: Fight with the enemy for control of resource-rich areas. To win, you'll have to make quick choices.
Escape Mission: Tell your army how to get out of an enemy-controlled area while they are being chased and there are hurdles in their way.
All-Out War: Fight a big fight where your army faces off against a big enemy army in an epic showdown.
Capture the Flag: Compete against the enemy to get a valuable item and bring it back to your base while keeping your own artifact safe in Stick War Legacy Gameplay.
Time Trial: Players have a limited amount of time to complete objectives, which forces them to make quick choices and put their plans into action quickly.
Ally Help: Work together with allied groups to beat a common enemy or reach a shared goal.
Environmental Hazard: Move through a level with dangerous terrain, such as traps or bridges that fall apart, that can affect fights.
Secret Infiltration: Send a small group of units into enemy territory and use stealth and surprise attacks to stop their activities.
Economy Challenge: Deal with economic problems by managing your resources and unit output well and keeping your defense strong.
In Stick War Legacy Gameplay, you can also get Stick War Legacy Hack APK MOD 999 Army on our website to get unlimited all resources. And spend as much as you want and play the ultimate levels and bosses of this game.
Stick War Legacy: Comprehensive Gameplay Overview
Max Games Studios developed Stick War Legacy, which is a 2D strategy game. It's the follow-up to the hit game Stick War, which came out in 2009. Stick War: Legacy came out in 2016, and more than 100 million people have downloaded it.
The following is a more in-depth rundown of Stick War Legacy gameplay:
The playing area is laid out in a grid format for gameplay. Each of the grid squares on the map is available for use by either an individual unit or a structure.
The Stickmen, the Swordswrath, the Speartons, and the Archidons are the game's four distinct groups that compete against one another. Each side has its own special units and powers that are distinct from the others.
Commands can be given by players to their units in order to control them. It is possible to provide commands that cause units to move, attack other units, or build structures.
The objective of the game is to emerge victorious over the antagonistic group. Either burning their statues or seizing all of their flags is an acceptable means of accomplishing this goal.